The University of Texas at Austin Application
Introduction
In this article, we will explore the application process for the University of Texas at Austin, one of the leading educational institutions in the United States. Whether you're a prospective undergraduate or graduate student, understanding the application requirements and procedures is essential. We'll delve into the university's rich history, academic programs, admissions process, scholarships, campus life, and more. So, let's embark on a journey to discover what it takes to become a Longhorn at the University of Texas at Austin.
History of the University of Texas at Austin
The University of Texas at Austin, often referred to as UT Austin or simply UT, was established in 1883. With a distinguished history spanning over a century, UT Austin has become a renowned institution known for its commitment to excellence in teaching, research, and public service. The university boasts a diverse and accomplished faculty, a vibrant campus community, and a legacy of innovation and intellectual contributions.
Academic Programs and Rankings
UT Austin offers a wide range of academic programs across various disciplines, including arts and sciences, business, engineering, education, and more. The university is home to several prestigious colleges and schools, each offering exceptional education and research opportunities. From undergraduate degrees to doctoral programs, students can choose from a diverse array of fields and pursue their passions.
The university's academic prowess is well-reflected in its rankings. UT Austin consistently ranks among the top public universities in the United States. Its commitment to academic excellence, cutting-edge research, and student success have garnered recognition from various national and international publications.
Admissions Process
For prospective students, understanding the admissions process is crucial. UT Austin follows a holistic approach to evaluate applicants, considering factors such as academic performance, extracurricular involvement, essays, letters of recommendation, and standardized test scores. The university seeks students who not only demonstrate intellectual potential but also contribute to the campus community in meaningful ways.
Prospective undergraduate students are required to submit an application through ApplyTexas, the common application system used by Texas public universities. The application typically includes personal information, academic history, essays, and a resume of activities. Additionally, some programs may have specific requirements or portfolio submissions.
Graduate programs at UT Austin may have additional requirements, such as specific test scores, letters of recommendation, statement of purpose, and writing samples. It is essential for applicants to thoroughly research the requirements of their intended program and adhere to the specified deadlines.
Scholarships and Financial Aid
The cost of education is a significant consideration for many students and their families. UT Austin recognizes the importance of providing financial support to deserving students. The university offers various scholarships and financial aid options to assist students in funding their education.
Prospective students can explore merit-based scholarships, need-based grants, work-study opportunities, and loans. UT Austin's dedicated financial aid office provides guidance and resources to help students navigate the financial aid process, ensuring that finance does not become a barrier to accessing quality education.
Campus Life and Facilities
Beyond academics, UT Austin offers a vibrant campus life with numerous opportunities for personal and professional growth. The university boasts state-of-the-art facilities, including libraries, research centers, laboratories, sports complexes, and more. Students can engage in extracurricular activities, join student organizations, participate in sports, and explore cultural and artistic events.
The campus is known for its lively atmosphere and diverse student body, fostering a sense of community and collaboration. From dormitories to student housing, UT Austin provides comfortable and inclusive living environments that promote holistic development and well-being.
Alumni Network and Career Opportunities
UT Austin's extensive alumni network spans across the globe, comprising accomplished professionals in various fields. The university's graduates have gone on to excel in diverse careers, contributing to their respective industries and making a positive impact on society. The alumni network serves as a valuable resource for current students and recent graduates, offering mentorship, networking opportunities, and career guidance.
UT Austin also provides robust career services to help students prepare for their professional journey. The university's career centers offer resume workshops, interview preparation, job fairs, and connections to industry leaders. The strong reputation of UT Austin opens doors to internships, research opportunities, and employment prospects that can kick-start students' careers.
Conclusion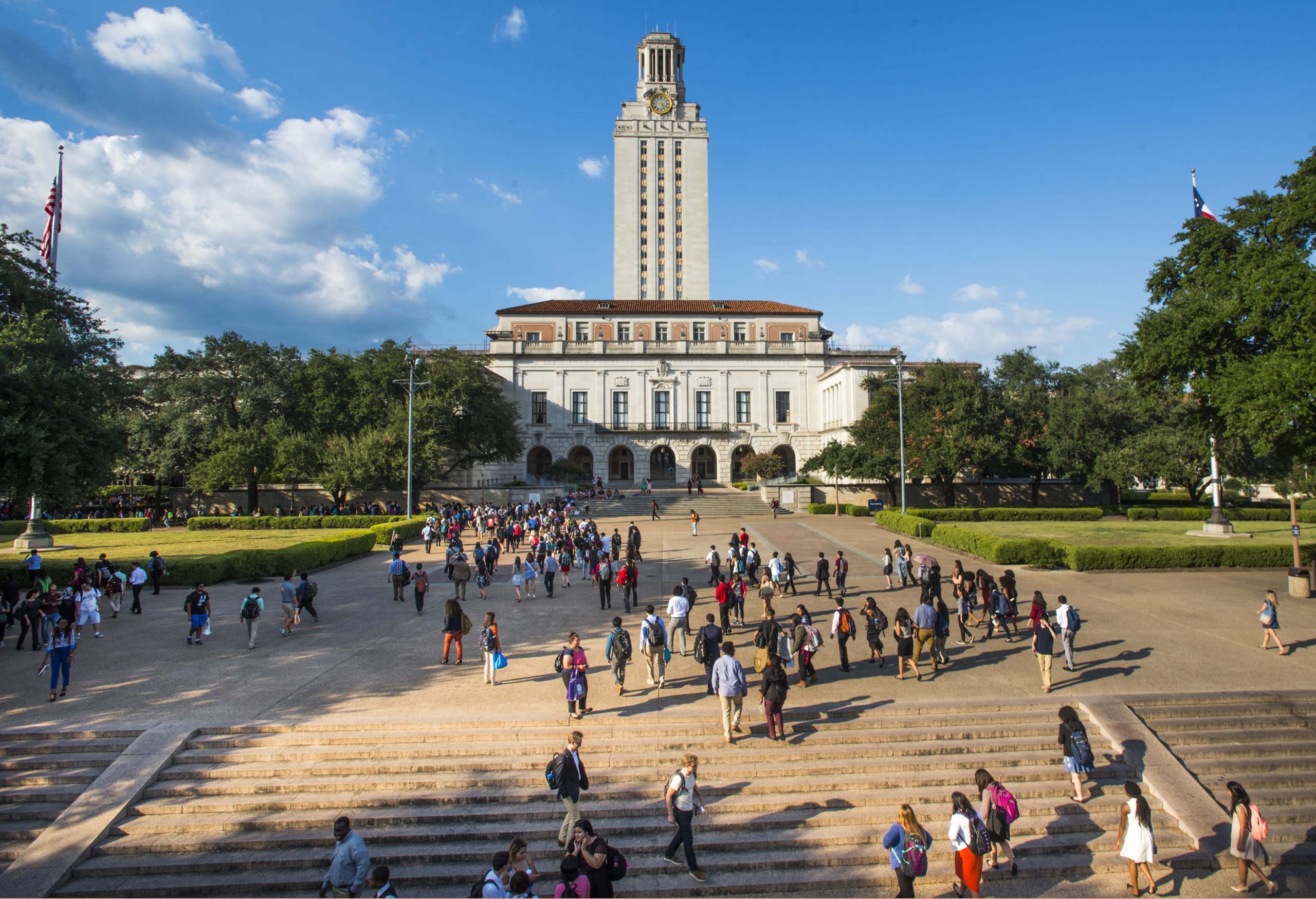 As we conclude our exploration of the University of Texas at Austin application process, we have witnessed the institution's rich history, academic excellence, holistic admissions approach, financial aid opportunities, vibrant campus life, and vast alumni network. UT Austin embodies the spirit of higher education, fostering a dynamic and inclusive environment where students can thrive academically and personally. Whether you aspire to pursue your undergraduate or graduate studies, UT Austin provides a platform to unlock your potential and shape a brighter future.
FAQs
1. What are the application deadlines for UT Austin?
The application deadlines vary depending on whether you are applying as an undergraduate or graduate student and the specific program you are interested in. It is advisable to visit the official UT Austin admissions website for the most up-to-date information regarding application deadlines.
2. Do I need to submit standardized test scores for UT Austin?
Undergraduate applicants are required to submit SAT or ACT scores unless they qualify for an exemption. Graduate programs may have specific test requirements, so it's essential to review the program's admission criteria for accurate information.
3. How competitive is the admissions process at UT Austin?
UT Austin is a highly selective institution, and the admissions process is competitive. The university looks for well-rounded students who demonstrate academic potential, extracurricular involvement, leadership, and a genuine passion for learning. It's important to present a strong application that showcases your strengths and unique qualities.
4. Are there any scholarships available for international students at UT Austin?
Yes, UT Austin offers scholarships and financial aid opportunities to both domestic and international students. International students can explore various scholarship options and should review the specific requirements and deadlines outlined by the university's International Office.
5. What support services does UT Austin provide to students?
UT Austin provides a comprehensive range of support services to students, including academic advising, counseling, career services, health services, and more. The university is committed to ensuring the success and well-being of its students, offering resources and support systems to help them navigate their academic and personal journey effectively.